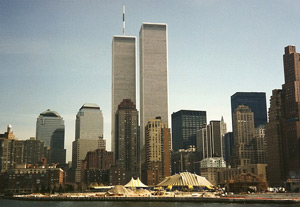 It's been said before… we'll probably always remember exactly what we were doing that day.
For me, it was an early morning networking meeting at the now-demolished Sarasota Quay. I remember hopping on my motorcycle to leave the parking lot when a State Trooper pulled up and blocked the exit.
President Bush was passing by on his way from The Colony on Longboat Key up Tamiami Trail to head toward Booker Elementary School.  It delayed my departure from the Quay for a while. I had completely forgotten he was in town, so I sat there on my motorcycle facing the road and watched as the entourage of black vehicles eventually went by.
Then, it was off to visit a client. I had to make a brief stop at the bank where, after making a deposit, I exited into an eerily calm morning.  It was exactly 9:02am.  I looked at my watch before getting back on my bike and I remember the distinct feeling: something's wrong.
I hadn't yet heard about what was happening in New York City, but for a Tuesday morning something really seemed oddly quiet. In the distance, a siren wailing added to the unusual sensation.
A few short minutes later, I arrived at my client's office where there was absolute bedlam. Someone had heard the news and was desperately trying to get CNN.com or any of the major news websites to load up.
We watched in horror as we finally saw clips of the planes flying into the buildings.
The 9/11 Community Prayer Meeting
For me, the next steps were both immediately obvious and now a blur. Thanks to my friends Raj Doraisamy and Joe Brachle, as well as the entire team at Joe's CSI Networks (then known as Computing Solutions), a full-scale effort was in place which by the end of the day yielded a community prayer meeting at Robarts Arena on Fruitville Road.
As many as 30-40 congregations in the Manatee and Sarasota County areas participated. Carolyn Mason, then mayor of Sarasota, was instrumental in getting us access to the Robarts facility at no charge. She announced the meeting at the city's own vigil held downtown that afternoon.  Jeff MacFarlane and the crew of The Joy FM, as well as many other media outlets, were instrumental in helping to invite the community to come out to pray.
From 5pm to 10pm, Robarts was open for people to come and go as they desired.  Estimates at the time were that approximately 500 people had come and gone by the time the evening was over. My own lovely wife, Jill, sang for a good chunk of the evening.  People like Cindy Wright and Carlos Ramirez helped provide music. Numerous pastors and other local ministers, including Dan Nawara from The Living Sanctuary and Richard Brantley from The Rock of Sarasota, came out to lead people in prayer.
That evening represented some of the best things about this community. A group of people in a wild time of uncertainty — we had no idea if we were in for other attacks or not — came together just hours after the first devastating tragedy of the day, and were simply there for one another. It was something for those who needed to reach out to other people… and to God.
It was an unforgettable day… for so many reasons. Thank you to those of you local citizens that helped bring some light into a very dark day.
Image © Kate Duffell. Image from BigStockPhoto.com
Related Posts: