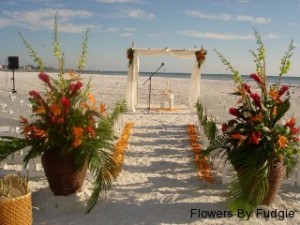 When it comes to brides, dreams are very important. And the dreams they have for their wedding day are as diverse as the brides themselves. Some want a church wedding, others a museum, a gorgeous outdoor location like Selby Gardens, or perhaps a beach wedding.
Regardless of the venue, the dreams of the bride are central to the success of the big day. And one Sarasota florist specializes in making those dreams come true. Having recently refreshed my acquaintance with Becki Creighton, owner of Flowers By Fudgie, I've been thrilled to see recent examples of her work and that of her team. In the just over 10 years that I've known her and seen her business develop and grow, they have increasingly focused on making the dreams of brides come true.
And having seen their work, no one does a better job. Talking to Becki recently, I learned that not only does she have a degree in ornamental horticulture, she has also worked in a flower shop since she was 16 years old. Having decades of experience (I have no idea how many!), she has cultivated phenomenal taste and an excellent talent for extracting from her clientele exactly what their dreams look like.
Seeing her recently-launched online gallery of Sarasota weddings and talking with her about her brides, I was surprised to learn that Sarasota has become a destination for brides. They're coming here (and bringing their bridal parties) from all over the country to get married here. Whether it's on our gorgeous, pristine beaches or in our spectacular museums and other venues, for a wedding, we have what brides want.
Regardless of whether you're planning an enormous event, the wedding of your dreams in paradise, or you just want want to send flowers to someone, give Flowers By Fudgie call at (800) 338-5983 or (941) 349-9212. Be sure and tell them I sent ya!