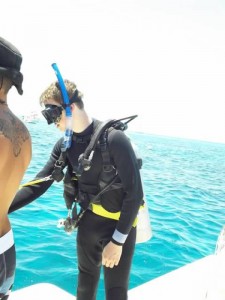 Sarasota, FL June 5, 2012 — Spencer Lasday, a sophomore at Pine View School in Sarasota, received a singular honor among high school students in being selected to perform environmental research at Mote Marine's Tropical Research Station near Key West. The trip was part of the Mote Marine Laboratory High School Internship Program, a highly-competitive program that provides a few, select high school students with a dynamic, hands-on marine science experience which complements their traditional advanced academic studies.
Hammering away at coral reefs nearly 60 feet underwater, Spencer alarmed other divers who thought he was damaging the reef. Gina Santoianni, Spencer's dive partner and Director of the Mote Marine Laboratory High School Internship program, looked on with amusement as Spencer tried to communicate to the concerned divers that he was actually restoring the reef.
"Spencer really enjoys diving, so this project was a great fit for him," said Gina.
The work on the reef is part of the internship program, which partnered with the internationally known Coral Reef Restoration Foundation from Key Largo, FL in an effort to ensure the health of this important part of Florida's underwater ecosystem. The project requires clearing away dead coral to make way for the new coral which is hand-planted, one coral polyp at a time.
In addition to multiple SCUBA dives working on the reef, Spencer also cleaned up fishing lines in mangroves and learned about Dolphins at the Dolphin Research Center while in Key West.
"It's been a great privilege to be part of the internship at Mote," said Spencer. "The program is competitive, which I found out first-hand when I was not accepted the first time I applied.   I love the ocean, and I truly enjoy science.  I was looking for a way to combine something I loved to do as a hobby, like SCUBA diving, with a way to be proactive and help make my part of the world a little better place.  In this part of Florida, the water is everywhere and you see it all the time.  But you only see the surface.  So much of this planet is hidden from us, under the water, but even what we can't see is so critical to life above the water.    Coral reefs are maybe 1% of the ocean floor, but support 25% of all marine life. They provide feeding areas and safe nurseries for the fish we eat.  They provide breakwaters to protect our shores.  And just like the rainforests on land, there is untapped potential for medicines and treatments for so much human illness.  I can't thank Gina and the staff at Mote enough for exposing me to the most amazing things about my own backyard."
Spencer is the only student from Pine View — Florida's only school dedicated to intellectually gifted students — who was accepted into the internship program this year.
In addition to this research trip, Spencer has also spent time behind the scenes with the animal trainers at Mote in the Marine Mammal Rehabilaitation Hospital, and behind the scenes at The Living Seas at Epcot, one of the largest man-made ocean environments in the world.  He's been a tour guide on kayak trips through Sarasota Bay, maintained tanks at Mote's Sarasota facility, and participated in the Youth Ocean Conservation Summit, a statewide gathering of students dedicated to conservation and renewal efforts for the ocean and coastline.
Spencer hopes to "dive deeper" into research at Mote next year as a high school junior.
###
Mote Marine Laboratory has been a world leader in marine research since it was founded in 1955. Mote is an independent nonprofit organization and has seven centers for marine research, the public Mote Aquarium and an Education Division specializing in public programs for all ages. More information is available online about the Lab as well as the High School Internship at mote.org.