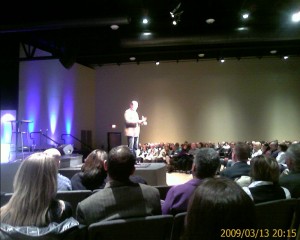 Just flew back in yesterday from this weekend's "Now Revolution Conference" in Columbus, Ohio, where it was my honor to have the opportunity meet with quite a few entrepreneurs, business owners, and future business owners to talk about marketing in the 21st Century.
My wife and I met Gary and Drenda Keesee last year when they were in town for the Sarasota Financial Revolution Conference. Since that time, they've completely revamped the conference, giving it a new name and a new focus. They've also completed construction on "The Now Center" in New Albany, Ohio — just outside of Columbus. This past weekend, they hosted the first major conference in that facility and it was absolutely stellar.
Gary's message is targeted at helping individuals discover and pursue their God-given destiny and to unashamedly achieve financial freedom in the process. These are issues that I'm personally very passionate about, which is the reason that we created our Christian entrepreneurship and business excellence events.
I was honored this weekend to share the platform with not just Gary, but the others who had impactful things to share:
Drenda Keesee — powerhouse in her on right, having journeyed with, encouraged and motivated Gary in their journey from enslavement to financial freedom. Arguably some of the biggest testaments to her own giftings are their children, whom she home-schooled and developed into some significant young people.  After briefly meeting their daughter, Amy, and son, Tom, I can tell you first-hand that they and their siblings are showing signs of greatness.
Johnny Hocott — a key player in the Forward Financial Group who I met several months ago when he spent some time here in Sarasota. Johnny is focused on developing and training new leaders and I've seen firsthand some of the fruit of his labors in some of the people here in our city.
Mike Healy — a dynamic and compelling motivator and trainer who is clearly out to win! Mike enjoys cagefighting, which I must confess is something I don't much about… but it sounds, shall we say… violent? Mike and his wife went from getting eviction notices to a 6-figure income in a 12-month time span and has plenty of important things to share with anyone looking to achieve success.
I couldn't say enough good things about the event staff, from Jason Freudiger and Amy Taylor to the media staff all the way through to the volunteers. The event ran smoothly despite the inevitable last-minute changes and adjustments. Everyone made the experience a pleasant one.
Did We Meet?
If you're one of the many people I met this past weekend, I have something for you. Leave a quick comment here and let me know who you are so I can e-mail it to you. Also, if you missed the chance to take advantage of the conference specials, I'll give you a way to do that.