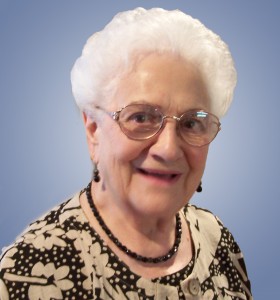 In the early morning hours yesterday, my Grandmother, Erma L. Carroll née Adler, peacefully passed away. She was comfortable, thanks to the wonderful people who cared for her around the clock for nearly the last 2 years of her life. Like her late husband, the Rev. Jack C. Carroll, who preceded her by a little more than 15 months, she was ready to go after a long, fruitful life.
"Mow-Wow" was how I always knew her. The story goes that my brother (who was her first grandchild) invented the moniker for her as a toddler, and it simply stuck. She was a loving, devoted Grandmother to me, who frequently had a mischievous gleam in her eye and was always quick with a remark and a hearty laugh.
But behind the spunky exterior was a quiet strength that was born in her large-family upbringing on a farm in rural Oklahoma. Her German-speaking grandparents left difficult circumstances in Russia and landed in Nebraska. Her parents married and eventually made their way to a new homestead outside of Weatherford, Oklahoma, where they started a family, eventually having 10 children.
The community in Weatherford was a tight-knit, family-oriented one. As it became more & more likely for World War II to impact the United States, she took a job with the War Department in Washington, D.C., which eventually led to her meeting the young Marine who stole her heart. The story goes that she actually dated his friend, but he snagged her. They fell in love and were married in September, 1945, once he returned from the Pacific theater at the end of the war.
They started their life together in Georgia, where he attended college and entered the ministry. She lived the majority of her adult life as a Pastor's wife, caring for people and contributing her myriad skills to the congregational life and activities in churches across Oklahoma, eventually settling in Denver, Colorado.
Mow-Wow demonstrated a tremendous amount of diligence in her life. Some of my earliest memories of her involve her sitting at the breakfast table in their Littleton, Colorado home, praying for each & every family member by name and poring over the Scriptures. It seemed she was always memorizing passages from her beloved Bible, and if I walked by her, I would frequently hear her "muttering" the Scriptures under her breath. She lived & breathed the Word of God.
She raised 3 incredibly gifted and talented children, one of which thankfully became my Mother. All of her children have tremendous musical abilities, and I'm a grateful beneficiary of the disciplines that were part of her household where music lessons are concerned. Her children are all 3 accomplished pianists and music lovers. We are a very musical family, and I believe in large part we owe it to Mow-Wow's determination to cultivate those abilities.
I'm grateful for so many experiences with her in my life. As a boy, I learned Scriptures from her and always enjoyed visits to her home. She was a hard-working homemaker, an amazing cook, and a joy to be around… although not without the occasional cantankerous moment. I was so grateful when she & Pa-Po decided to make the move to Florida in 1998 and spend their twilight years here. It has meant that my Mom's side of the family has spent significant amounts of time together, which I've been very blessed to be part of along the way.
Unfortunately, she had a late-night fall 2 years ago, which resulted in a broken femur. The surgery to repair the break was a little hard for her to recover from, and she had a further setback when she had a stroke in the recovery process. My Grandfather had been by her side through her major heart surgery several years prior, and was always strong for her. But after her fall and subsequent stroke, his own health began to decline. He passed away in January, 2010, just a few days shy of his 89th birthday. She lived to reach her own 89th birthday in April of this year, but was tired from her health struggles.
She was greatly loved and will be sorely missed.
A public viewing will be held on Thursday, May 12th, from 6pm-8pm at Brown and Sons Funeral Home, 604 43rd Street West, Bradenton, FL 34209 (map here). A funeral service celebrating the life of Erma L. Carroll will be held on Friday, May 13th at 11am at the same location. She will be interred at the Sarasota National Cemetary at 2:30pm.