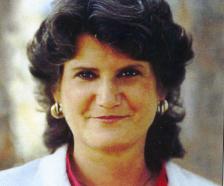 Over the last few months, I've had the privilege of becoming acquainted with Melinda Leeson, DOM. She's an acupuncture and homeopathic physician who operates a clinic here in Sarasota called "Nature's Own Wellness."
Now let me first say that I haven't yet tried acupuncture. Prior to meeting Dr. Leeson, I would've placed it in the category of "things that might be helpful that I might be willing to try." Frankly, I would've never thought that I suffered from any condition that would've been helped by acupuncture.
As far as homeopathy goes, I would've said, "I'm definitely open to it." I have a healthy skepticism about medications. In fact, I tend to think that as a general rule, we Americans are little too quick to reach for (or ask our doctors for) a bottle of pills. The idea of natural remedies that don't involve a lot of bizarre pharmaceuticals is actually appealing to me. Thankfully, I've been very blessed with great health. Aside from some injuries that have required chiropractic treatment, I rarely darken the door of a doctor's office… unless they are a client!
And that's how I happened to meet Dr. Leeson. We were introduced by Sarasota florist and my good friend and client, Becki Creighton. Since Becki has raved and raved about her experiences with Dr. Leeson, I was delighted to be able to meet her.
One of the things that Dr. Leeson (who tends to call herself Melinda) helped me understand is that acupuncture doesn't hurt. I guess a lot of people assume (as I did) that the needles would prick or sting a bit on the way in. Evidently that is not the case… most people don't feel anything and are even surprised to find out a needle as already been inserted.
Another thing she helped me understand is that the needles are about energy flow. Traditional Chinese medicine looks at physical, emotional, mental and spiritual energy differently than we tend to think of it here. This is very intriguing to me, as is the idea that treating a specific symptom or condition really should be done from a holistic perspective. She explained that she spends a great deal of time with her patients… learning about their lives, how they spend their time, what they eat, what stresses they experience, and so on. This helps her arrive at a course of treatment that is more likely to get to the source of the problem(s) and not just alleviate a symptom.
Another interesting thing I learned is that the practice of Chinese herbal medicine goes beyond acupuncture to the use of herbs and teas that introduce natural substances which may target certain deficiencies and so forth. This is very interesting to me because I'm convinced that eating the same foods over and over again — does anyone do this but me? — is bound to cause us to come up short in certain areas… not to mention ending up with too much in some others!
Overall, her use of homeopathic remedies goes most deeply into re-balancing or correcting the driving forces within each person that initially set up the energetic patterns for disease. This is a major departure from what we typically experience in health care today. And… to me, it's worth exploring.
Another thing I didn't know is that traditional Chinese medicine — acupuncture, herbal remedies, etc. — is able to really help with a wide variety of ailments. Melinda helps her patients with everything from weight loss to chemical imbalances. She works on colds and flu, ADD/ADHD, symptoms of menopause, osteoporosis, allergies, chronic fatigue, headaches, joint pain, fibromyalgia, arthritis, insomnia, depression… the list truly goes on and on.
Whether or not you've ever considered or tried acupuncture, Sarasota has a true gem in Dr. Melinda Leeson. I've spent a number of hours getting to know her — both face-to-face and over the phone — and she is a highly conscientious, precious, compassionate person. She has demonstrated the highest integrity, which in and of itself gives me reason to highly recommend her. Here's how to find her:
Nature's Own Wellness (Website: http://www.naturesownwellness.com)
7029 South Tamiami Trail, Suite A, Sarasota, FL 34231
Appointments & Info: (941) 926-9082