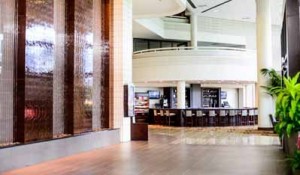 I took the family to Tampa's new Sheraton (Sheraton Tampa East Hotel) this past weekend and was immediately blown away by the beautiful design and decor of this hotel. My first impression was that an artist must have designed this space. The lobby feels huge, bright and inviting; there are unique nuances to the architecture that compel you to stop and just enjoy the view before checking in to your room. There were so many areas for guests to sit privately or in large groups within the lobby and multiple computer stations. This is a great feature for business-minded people staying at the hotel.
Although this particular trip was for pleasure; as an event planner, I never miss an opportunity to scout an entire property to establish which types of events would do well at the location. Most hotels are designed around a certain type of audience and event, so they can't accommodate anything outside of that target audience – at least not well.  However, the Sheraton Tampa East has meeting space for every kind of event and the meeting spaces are separated in such a way that multiple events could be taking place simultaneously without interfering with one another. There were board rooms, a grand ballroom, smaller dining areas and a hallway of smaller meeting spaces that would be great for break-out sessions. It is difficult to find spacious pre-function areas for receptions or event registrations anymore because many hotels have chosen to condense those spaces into crowded hallways. I was delighted to see multiple pre-function options that would add class  and efficiency to any event. If you're an event planner, contact Judy Hollister at (T- 813-246-7120  M - 813-957-3380). She took the time to give me a full tour after normal business hours on a Friday – very nice!
The staff gave impeccable service from the registration desk to the extreme cleanliness of our room. They made us feel like welcomed guests. This hotel offers a complimentary shuttle service to many area restaurants and attractions. We took advantage of this service on our first night and the driver was very knowledgeable about the local area. He asked about the kind of evening we wanted and made recommendations accordingly. We chose dinner at The Cheesecake Factory at The Westfield Brandon Mall, which was only minutes away from the hotel.
We also enjoyed the lovely pool area, which was very clean and set in a relaxing atmosphere. Just off of the pool deck was the large fitness room, filled with many workout options. Admittedly, I did not work out; but keep in mind, this was a pleasure trip. A couple of other notable features are the well shaded complimentary parking lot, the computerized reader board for searches of the local area and things happening on-site, the excellent food served in their upscale Panfilio's Bar and Grille restaurant and one of my favorites: a 100% non-smoking facility policy.
It may seem like I have gushed a bit too much here, but I am not usually impressed by a hotel and the Sheraton Tampa East Hotel was a first class experience. I would highly recommend that you book a room and check it out for yourself. Then feel free to let me know if I am way off base or, as usual, spot on with my assessment.
Yours Truly,
Cheryl