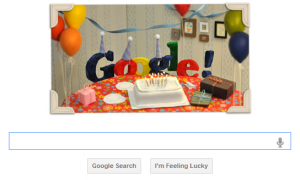 It's hard to believe, but the website most of us use everyday to start just about anything we do online didn't exist until 13 years ago.
Their rise to dominance didn't take place until later, but the company was incorporated in September, 1998. By 2000, they were processing 100 million searches per day… and of course, today they own the US search market. (Market share varies depending who measures it and what they measure… but for all intents & purposes, they're the search engine that matters.)
In addition to the 28,000 people they employ directly, Google and its products have an impact on the businesses, careers and income on an incredibly high number of people. I'm sure someone has tried to do it, but it would truly be impossible to measure the economic impact of this behemoth. This could be why Google officials were recently testifying before Congress regarding the competitiveness of their operations… but that's something for another day.
For today… on behalf of small businesses and marketers everywhere… Happy Birthday, Google! We're celebrating right along with you today!