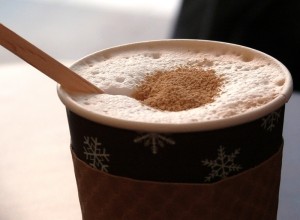 Those who know me well — and shoot… even those who read this blog! — know that I'm a Starbucks fan. I carry the Gold card, I've unlocked the Foursquare "Barista Badge," and I've had Starbucks almond cappuccinos on multiple continents.
However… in the famous revamping of 2008, Starbucks ditched a few of my favorite things. Some of them hit a little closer to home than others. The loss of the Bearista left me with one less source for cute little stuffed animals to bring home to my wife and daughter. That hurt. Thankfully, the Bearista is back this fall.
What hurt even worse, however, and what is not back… is Starbucks almond syrup. My eulogy to this personal favorite continues to bring visitors from all over the world to this site.
Starbucks has a consistent product… all over the world. That makes it worth counting on… no matter where you are.
However, since the demise of their almond syrup, I've taken to checking out local, independent coffee shops to see what treasures I might discover — especially here in Sarasota, Florida. Consequently, I've found that there are some places around town that produce some fantastic products. LeLu Coffee Lounge on Siesta Key is one such place. In fact, they make a mocha using genuine Ghirardelli syrup that makes my wife melt. +1 for LeLu!
But just yesterday I believe I may have discovered Nirvana. No… not the Kurt Cobain-fronted grunge band from the 90s. But the real deal… the ultimate almond Cappuccino. And it doesn't smell like Teen Spirit!
Locals here in Sarasota may recall the name, "The Beanz Man." We knew it as a dealer of a wide variety of personal and professional espresso machines. When their shop disappeared from North Washington Boulevard, I thought perhaps it was another casualty of the economic times, so to speak.
Turns out, they suffered a devastating fire. I don't know the details, but apparently it forced them to relocate and start over. Imagine my surprise when I spotted their vans parked in the parking lot next door to my office on Bee Ridge Road a few months ago!
Well… not only did they move… but last week they opened a full-fledged cafe! They serve a variety of sandwiches and soups. I walked over to it for lunch yesterday with my wonderful wife, Jill, and had a prosciutto and fontina sandwich that was spectacular.
But… what do you get when you take an espresso machine dealer… one who probably knows the ins and outs of making espresso-based drinks as well as anyone else… and put him in his very own cafe?
You get the handmade cappuccino of your life… with the perfect amount of almond syrup to boot! (At least… that's what you get if you're me! You might order something else… that, I recognize. But that would be your loss.)
Actually… I'm sure that any espresso-based drink you could possibly dream up would be amazing at The Beanz Man Espresso Bar Cafe. Here's a sure thing: I'll be walking next door more often… a lot more often. Check out the cafe page on their website to download yourself a coupon, then head on over there yourself. Enjoy something to munch on at one of their nifty little cafe tables, or sink down into the cozy couch and fire up your favorite wi-fi device to do some surfing.
And be sure to tell 'em I sent ya!